Posted:
April 9th, 2015 |
Author:
Tim Ralphs
|
Filed under:
Blog
|
Tags:
Beeston Tales
,
Gigging
,
News
|
4 Comments »
Hi there! This is a little post about Beeston Tales, a monthly storytelling night based in Beeston, Nottingham. 
We're back Baby! – From 20th July we'll be hosting events at Our Lady of the Assumption church hall, Foster Avenue, Beeston, Nottingham, NG9 1AE
Beeston Tales is a club dedicated to the vibrant and ancient art of storytelling. Hosted by Tim Ralphs and Mike Payton the club features themed nights, showcases up and coming local tellers, invites renowned guests from around the world, includes musical spots and much more.
There is a hypnotic feel to the tales: you're back round that prehistoric campfire again, rapt.
– Matt Turpin, LeftLion. (Read full review.)
Let yourself be transported to worlds that are otherwise unreachable. – Bryony Ashmore, Nottingham City of Literature. (Read full review.)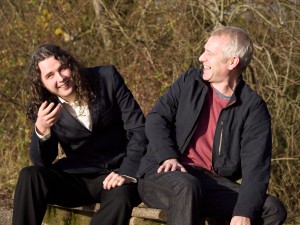 20th July 2022 – Mike and Tim present "A Carnival of Stories"
What? To celebrate the return of Beeston Tales, Mike, Tim and local friends will be sharing their favourite stories in a night of fairytales for grown-ups. Cake and drinks will be available, feel free to bring your own booze!
Where? NEW VENUE! Our Lady of the Assumption church hall, Foster Avenue, Beeston, Nottingham, NG9 1AE.
When? 7:30pm on the 20th July
How? Tickets £8 on the door or £6 in advance using the link below:
If you buy tickets using this link you will be emailed a receipt from Paypal to confirm your purchase. Your name will be added to our guest list. You will not be emailed an e-ticket and you do not need to bring anything on the night, but please remember the ID you used to purchase the ticket. Many thanks!
---