"Words that are applied glibly to other performers – such as brave, experimental and innovative – apply truly to Tim Ralphs. An imagination and talent such as Ralphs, spotlights storytelling as a thoroughly modern performance art form."
Nell Phoenix, Story Nights Torriano
The ancient art of storytelling,
Innovation in spoken word.
Tim Ralphs is a storyteller and active exponent of narrative in art. He also works as a public engagement consultant where he focuses on connecting academic researchers with non-specialists.
His storytelling is rooted in the oral tradition: The craft of a speaker weaving language and gesture to entrance an audience and bring a tale to life.
Tim Ralphs gained much acclaim at "The Young Storyteller of the Year" competition in 2007, and was a British Award for Storytelling Excellence winner in 2012. He has performed everywhere from majestic Teutonic castle at Alden Biesen in Belgium, to the muddy Shropshire fields of The Festival at the Edge, to the sophisticated theatres of Soho and The Barbican. His audiences find him equally captivating whether they are partaking of some cake in a cafe, sitting spellbound around a fire in the woods, or dancing furiously while he lays down his words over a frenzy of experimental rock.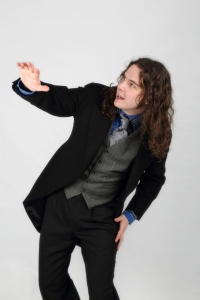 His stories are drawn from a rich medley of myth and folk tale, but also include live adaptations of absurd texts and wondrous reimaginings of classic fairytale material in evocative urban settings. As an ambassador and advocate for storytelling, Tim's repertoire reflects the need for the craft to appeal to today's listeners and tomorrow's tellers.
Details of his upcoming performances can be found here.
Tim Ralphs is an experienced workshop leader, capable of engaging with diverse groups of differing abilities. Whether introducing attendees to performance for the first time or exploring the subtle intricacies of storytelling as a work of craft, his participants leave enriched, confident and with a new perspective on this incredible artform. Tim Ralphs also has a body of experience working in the capacity of Editor/Director for oral performance, and can be called upon to give detailed feedback and critical advice on every aspect of a piece. He has been a major part of several projects run by The University of Sheffield with a view to engaging local artists and giving academic researchers a new perspective on how to present their material.
Contact him with any queries [email protected]
---