Posted:
March 14th, 2017 |
Author:
Tim Ralphs
|
Filed under:
Blog
|
2 Comments »
Hello all,
In April, we have the amazing 3Troubadours visiting us at Beeston Tales. They'll be performing on the Wednesday night at our regular club night, but we're lucky enough that they are staying around on the Thursday to run a one day Performance Storytelling Laboratory for us.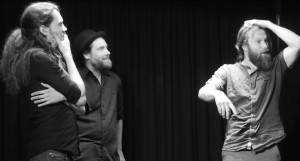 Performance storytelling Labo with 3Troubadours
3Troubadours is a trio of performance storytellers consisting of Markus Luukkonen (Finland), Torgrim Mellum Stene (Norway) and Tom van Outryve (Belgium). Their collaboration and friendship started in 2013 when they all met as participants of LABO, a European laboratory for research and development in the art of performance storytelling, facilitated by French master Abbi Patrix.
On 13th April they'll be running a workshop specifically geared to experienced storytellers, a one day adventure in which they will share their collective discoveries in the spirit of LABO.
We'll be looking at elements like:
– intensity
– style
– using the stage/staging the story
– rhythmicality.
All this at The White Lion, Middle Street, Beeston. The workshop runs from 11:00 until 16:30, with lunch included. (Let us know any dietary requirements.) It comes at the bargainous price of £35 for the day.
Special offer! Buy a ticket in advance for the workshop, get free entry to "Mobile Dreams", the 3Troubadours storytelling performance on 12th April.
Details of that here.
We expect this one to fill up fast so get booking!
Any queries, or if you don't use paypal, email me about it at [email protected]
Book using the paypal link below:
---