Posted:
June 27th, 2018 |
Author:
Tim Ralphs
|
Filed under:
Blog
|
Tags:
Gigging
,
Images
|
No Comments »
Last Saturday, I was part of Leeds Royal Armouries' "Legends" programme. They take a character worthy of a whole weekend of events, open up the museum and go to town.
For June, they were looking at "Blackbeard", with events ranging from cannon demonstrations over the dock to pirate courts abiding by the official regulations.
Here's me with my world premier of "Treasure Island".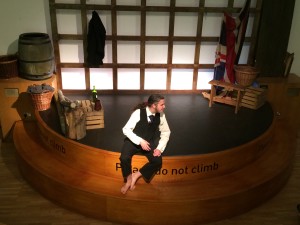 And my favourite thing about this picture is that you can clearly see the words "Please do not climb" on the side of the stage. ARRR! Do ye think ye can tell a pirate where he can or can not clamber, lubber?
Some of you may be rushing to comment that Blackbeard isn't in "Treasure Island". Oh sweet, facetious darlings. Legends are legends. And anyway, Blackbeard was a lamb compared to Captain Flint.
---