Posted:
May 25th, 2015 |
Author:
Tim Ralphs
|
Filed under:
Blog
|
Tags:
Audience Comments
,
Gigging
,
The Pentamerone
|
No Comments »
The fine folks at Birmingham Storytelling Cafe had me along to tell stories from my show How to Spin Enchantment. Here's some of the audience feedback, I'm particularly impressed by the poetry:
9/10 a very good night,
laughter, wit and the occasional fright,
We'll come see you again,
every now and then,
unless there's a defined schedule or something.
The night was splendid
It was a shame it ended
But I guess it must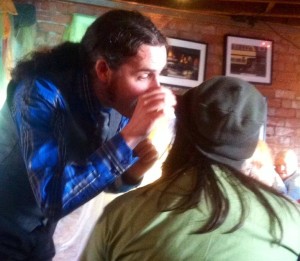 What a feat of endurance! Brilliant 25 stories in one!
What a joyful gallop through a gaggle of lovely Italian stories.
Someone pay this man more money! Not only is he a brilliant storyteller, but he needs money for SHOES! Bare feet? How? My feet are frozen!!!
Enthralling
What a brilliant storyteller Tim is. Most enjoyable evening once again. Love your stories.
Fantastical stories within stories. A most enjoyable young man.
First time here. Great stories tonight. Thank you for a great night.
My first experience of storytelling. I enjoyed the twist and adventures in each story. Quite humorous and very charismatic.
Tales of wit and great imagery—a joyful performance!
Absolutely brilliant.
Brilliantly told, a masterful performance. Very entertaining.
Wonderful story, shame your hair wasn't RED! (Tim says: This is a reference to the posters, which showed me as having the most magnificent shade of auburn hair.)
Absolutely fabulous! Great stories!
Wonderful evening, our best evening yet and we've been to a few…
A very enjoyable evening. The stories were enchanting and entertaining. Thank you for sharing.
---